My sweet co-worker, Lisa Haughey, gave me the privilege of enjoying my first Yankees baseball game when she invited me & Will to join her & Nick on Monday, April 25th at Yankee Stadium in The Bronx. The Yanks ended up losing to the White Socks, 2 to nothing. But that didn't seem to bother us! The seats were amazing… section 210, row 4. We were in perfect foul ball territory and the weather was cooperating, for the most part.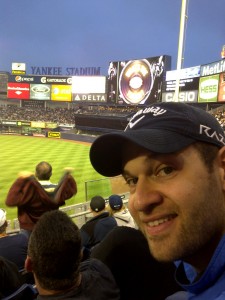 As an added treat, Brett & his wife were heading to the same game so we enjoyed their company on the train ride in. Cool thing about the trains here: On game days, there is an express train called "the clipper" that leaves Stamford and goes directly to Yankee Stadium, no stops! Thankfully, we were able to use our ten-trip passes that we'd already purchased for frequent travel between Stamford & Grand Central. This couldn't have been easier!
The scene at the Yankee Stadium-153rd train station was incredible. A sea of navy blue and pinstripes engulfed me. People were wearing their classic NY hats or the traditional pinstripe jerseys, or in most cases, BOTH. They were already chanting "Yankee's Way!" and getting each other riled up, even though we still had a good walk before we were near the stadium. As odd as it may sound… it was the closest feeling to Texas I've had since I moved here. I felt like I was in College Station, Texas… walking towards Kyle Field!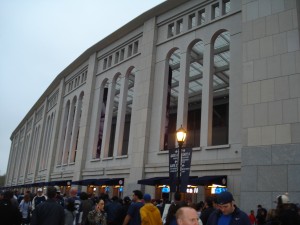 The remnants of the old ballpark still live in the shadows of the new enormous structure. Kinda cool, but kinda sad too… the old home plate looked like a little league practice field.
Once we got inside, it was pretty obvious that there wasn't a bad seat in the house. And no matter how many pictures we took, nothing could do this place justice. We settled in with a couple of beers and a large order of the famous GARLIC FRIES. And boy oh boy… all I can say is: Good this it wasn't our first date! The garlic fries were amazing, as expected. But I kid you not, the taste radiated up my trachea for the next 24 hours. A Hebrew's National footlong, some chicken tenders and two more $11 beers completed our well-balanced dinner for the evening.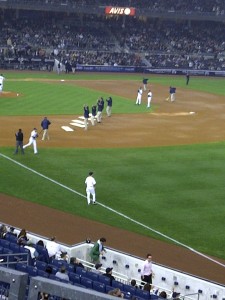 There was a proposal on the big screen and a few famous people in the crowd. During the 7th inning stretch, a few gospel singers came out and butchered "God Bless America" (sadly) and the awesome Grounds Grew came out to comb the field and do the "Y.M.C.A."
All in all, it was an awesome experience. And for the record… despite going to a Yankees game, I'm still 100% Texan 🙂