Exactly 12 months after we met Lucas in DC, he planned another east coast Halloween trip… but this time, he landed in Stamford, CT!! He's been talking about visiting ever since i moved here and finally he made it a reality.
We started the weekend out with dinner & drinks in lower Manhattan. Then Lee took him out all night in search of some NYC ladies. On Saturday, we were back in CT for a Pizza Crawl. To make it even more interesting, Old Man Winter showed up a few months early in the form of a freak snow storm! But that didn't stop us from enjoying a surplus of pie at the 4 most famous pizza establishments in New Haven, CT (arguably the best in the nation).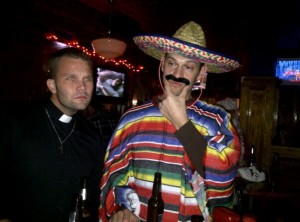 The snow storm shut down the metro rail so we had no way to get into the city for a friend's party… but we still got dressed up and hit the streets of downtown Stamford. Per usual, Lucas was in fine form for Halloween (see 2010 archives). And even though our original NYC costume party plans were hindered by the extreme weather, we still managed to have an incredible time that night in below-freezing temps.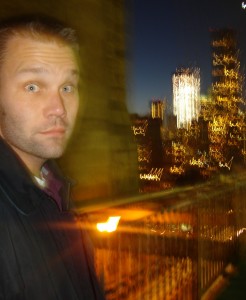 Sunday morning we went to SoNo for a phenomenal brunch at The Brewhouse. We met a married couple from Texas (Brandon & Amanda Lackey) who live in Norwalk. They just moved here this year and they also joined us for brunch, so it was pretty awesome having a table full of Aggies! Sunday evening, Lucas and I went back to NYC to do a little sightseeing. I got plenty of pictures of him, but he hates taking normal pictures. So it was a struggle finding something worthy of this blog post. This is the best i got outta him –>
The weekend was a blast and we're hoping to make "East Coast" a Halloween Tradition… Maybe Boston next year 🙂