Robyn & Eric were married on Saturday, August 13th at the Gran Caribe Resort in Cancun, Mexico. This was my very first "tropical" vacation, can you believe it?? Twenty-eight years of life… and the only beaches i knew about were Texas Gulf beaches. (Well, we did go to Panama City Beach, FL when i was a little kid… but i was like 12, i barely remember it!)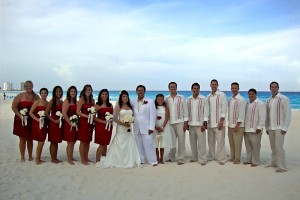 The ceremony was held in an open-air chapel facing the water and the view was incredible. Everything about that day was perfect… even the 10 minute surprise thunderstorm that briefly interrupted the evening reception! The girls wore short, strapless red dresses (with pockets!) and the guys wore tan guayaberas with red embroidery. Robyn looked absolutely stunning, and the white sand, bright blue water and clear skies made for an amazing backdrop.
A few things i learned about Cancun…
1) it's the hottest/most humid place on earth. like, i was literally dripping sweat just loungin' on the beach. and the minute i stepped foot outside our villa, my curls would fall and my hair would be damp with sweat from my head. i think i styled my hair 3 times each day. maybe next time i visit Cancun, it won't be in the middle of Summer.
2) all-inclusive is the way to go! obviously there are different rates for upgraded rooms, etc… but the average cost was approx $100/per person, per day. and this price included all restaurants & bars on the resort (alcoholic drinks too!), free room service, and an awesome villa! it was pretty neat being on vacation and not having to "spend money" – everything was taken care of for us.
We all lucked out, because about a month after Robyn & Eric decided where the wedding would be a "groupon-like" special surfaced on EverSave.com. The deal was $299 for an all-inclusive 3-night stay for two, at the Gran Caribe resort! Even though Will & I had already booked and paid for our stay through the wedding coordinator, we quickly purchased the voucher and canceled 3 of our 4 nights. Since that saved us over $400, we were able to upgrade when we arrived. Our villa was incredible. We even had a private, two-level balcony with a jacuzzi!
It was an awesome trip, my sister married an awesome man… and i promised myself i'd take a tropical vacation every year from now on 🙂