foreword: i wasn't going to write anything about the earthquake, because everyone in Cali was making fun of the East Coasters for our "over-reactions," HOWEVER, then along came Irene & her annoying little brother Lee. so this indeed deserves an entry. also, Mary Scheske quickly messaged me on GTalk and said "Did you FEEL it? You better blog about it!" So Mary, this one's for you… sorry for the delay 🙂
Aug 23, 2011, approx 2pm EST: My co-worker Cyd and i are at our desks minding our own business when we feel the building rumble. My first thought was "Whoa! Is that the wind shaking the building?" Cyd responded with "Must be! Do you feel that??" Then here comes Juakeena, walking in the office…
[The room is still rumbling at this point]
Me: Juakeena, do you FEEL that??
Cyd: is it crazy windy outside?
Juakeena: no, i just went on a walk… it's not windy at all.
I looked out the window to confirm that trees were in fact, not swaying. And then i hit the world wide web. It took me all of 2.3 seconds to confirm on CNN.com and then again on Facebook & Twitter that we just felt the earthquake all the way from the Virginia/DC area!! There was no damage at all here in CT, but i definitely got to FEEL my first earthquake!
Then, Tropical Storm Irene was a'brewin'… and about 5 days later she showed up on our doorstep as a Category 1 Hurricane. NYC & Stamford (where i live) seem to be the only places around here that did not get tore up by Irene.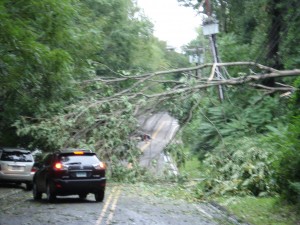 Greenwich was without power for almost 2 weeks, and many streets were completely blocked by downed trees. Norwalk had plenty of flooding. But the major devastation occurred along the central coastline in Milford & Fairfield. Waterfront homes were swept away, neighborhoods were under water, and there were even a few deaths caused by Hurricane Irene. If you're interested in seeing more pictures of the damage, click here: CTPost.com Slideshow
Right after Irene hit, I had to travel to Texas for work again (not complaining!!) and that's when Tropical Storm Lee showed up. I was lucky enough to be able to extend my work trip to include some aggie football. I  made my glorious return to College Station, Texas just in time for the 1st game of the season: A&M vs. smu… which resulted in a Win, duh! The only negative was the hurricane-like winds that Lee was churning up in the gulf. Tents were blowing over, EZ-ups were taken down and my hair was just a dang mess 🙂 But the tailgatin' went on!! We were all set up at 8am and drinking beer well before noon. We didn't get a drop of rain in Texas, but the east coast got pounded again with tons of rain, courtesy of Lee.
Now here we are in the last week of September, and temperatures are in the 60's & 70's during the day, and in the 50's at night. Yup, it's officially Fall. Not gonna lie, i really like this time of year here 🙂 It's hard to believe in two short months we'll be knee-deep in friggin' snow. I'm gonna enjoy this while i can!!