In January 2012, a full two years after my big move to the NE we finally booked a winter trip to Bromley Sun Mountain in southern Vermont. (backstory: The first and only time i participated in snow sports was in 2004, during an APO national convention. We took a train from downtown Denver to Winter Park Colorado. I skipped my beginner lesson because i was a natural on skis and was up on some pretty decent Blues by the end of the day!) Will & Lenny have snowboarded before so i decided to give that a try this time. As an added bonus, Claudia planned a visit just in time to join us!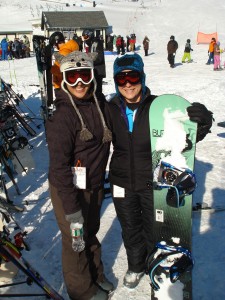 We all headed to Vermont around 4pm on a Thursday. Arlington, VT is supposed to be a 3 hour drive from where we live. However, due to snow/icy weather & questionable narrow/dark roads we arrived at our cabin around 9pm. Scates, John Louis & their ladies would be joining us the following night but we wanted to be up early on Friday for a "Snowboard Starters" group lesson so we arranged to be at the cabin the night before. The next morning, we lucked out and got placed in a small group with two very talented and helpful instructors: Tony & Ollie. They taught us the basics and had us making turns by lunch time. After lunch, we got up on the lift and made several passes down a mild course. Will happened to be the snowboarding all-star in the group and he was connecting his turns like a pro!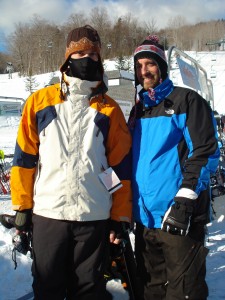 Even the guys (who had taken lessons before) were surprised at how great our instructors were. We were all doing very well on our boards. On day one, we had about 5 full hours of instruction and even though we were all exhausted and ready to call it a day… we were still very much looking forward to day two.
When we got back to the cabin we got cleaned up, made some dinner and waited for the rest of the group to arrive. Once everyone arrived we partied a little bit, some more than others (ahem, CLAUDIA ha!) but we were all up the next day and back at Bromley for more.
It was a fantastic weekend, and two days of snowboarding was all that it took to get me hooked. Our friends who live in Norwalk (the Lackey's) are avid snowboarders and they inspired us to buy our own equipment. When we got home, Lenny introduced us to Joe (the owner of Capsule Board Shop in Cos Cob) and less than 2 weeks later I was a proud owner of a new beautiful Signal Snowboard! Will's board came in a few weeks later… it took a little longer to arrive since he had to special order one in his size. We are now itching to hit the slopes again ASAP. We've got multiple friends who want to take weekend or day trips with us, so i'll continue to post about our new fun hobby!